Environmental Consultancy Vietnam
Experts in
Waste & Resource Mgmt.
||
Environmental Impact Assessments
||
Management Systems
||
Permitting
||
Legal Support
||
Auditing
Permitting & Legal Support
Permitting & Legal Support
The Wiser Environment Vietnam team can help you achieve the permits, consents and comply with legislation.
Get permitted
Development Strategy & Planning
Development Strategy & Planning
The Wiser Environment Vietnam team has extensive experience in preparing and developing corporate environmental and social plans.
Create a sustainability strategy
Waste & Resource Management
Waste & Resource Management
The Vietnam Team help operators improve their waste management practices and navigate through ever-complex legislation.
Reduce your environmental impact
Environmental & Social Impact Assessments
Integrated Management Systems
Integrated Management Systems
Vietnam team are experts in the development and implementation ISO9001, ISO14001, ISO50001 and ISO45001 management systems
Let's help you with your IMS
Wiser Environment's satellite office in Ho Chi Minh City provides environmental and management system consultancy services and training in environmental awareness and waste management to businesses operating in the region.
"I am delighted to open our office in Vietnam and providing practical and clear advice in this fascinating environment of dynamism, proactivity and entrepreneurship. Our mission is to contribute to sustainable development in Vietnam by sharing international best practice adapted to local needs."
Joana Santos, Wiser Environment, Vietnam
Our team of environmental consultants based in Ho Chi Minh City and the UK, with experience in various industries, provide high-quality services tailored to each organisation
For further information about our services in Vietnam, contact Joana Santos by email at joana@wisergroup.co.uk or by phone at (Vietnam) +84 967 647 651 or (UK) +44 1480 462 232 or Ly Dang at ly@wisergroup.co.uk or by phone on +84 394 849 886.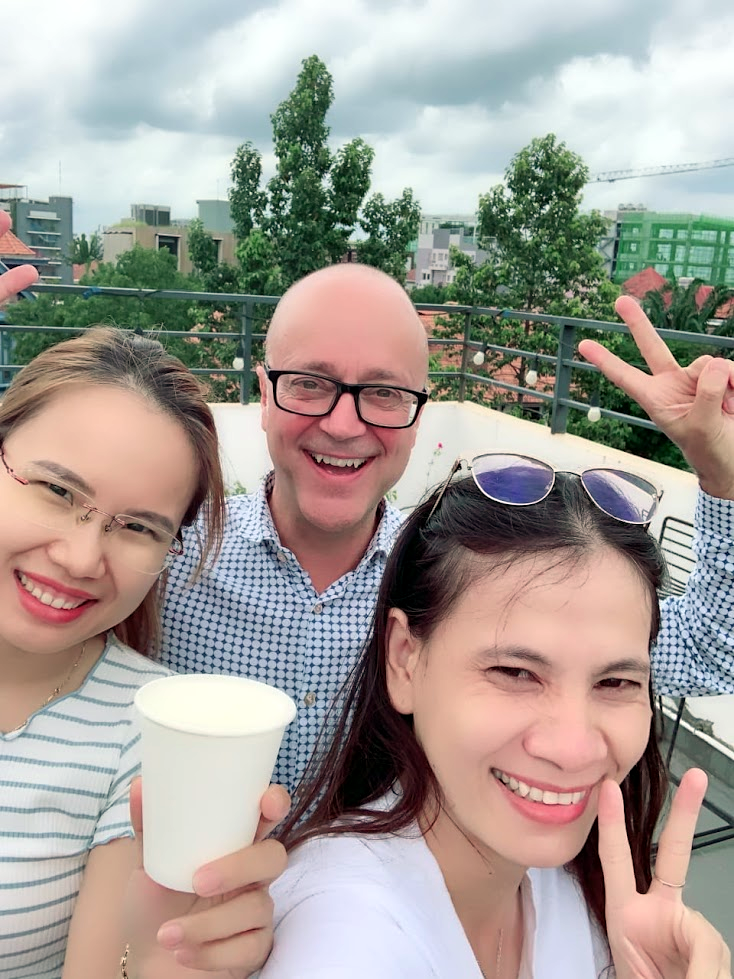 Joana Santos
Head of the Representative Office of
Wiser Environment Vietnam
Joana Santos
One of the longest-standing members of our team, Joana has extensive international experience across a broad range of industries and now heads up our Vietnam office. Her exhaustive knowledge of international standards has benefited many of our clients.
Meet Joana
Hoang Nguyen
Hoang is a key member of the WEV team and brings with him years of experience in business and environmental consultancy. He is highly respected within the industry for his integrity and dedication to ethical business practices.
Meet Hoang
Ly Dang
With over 10 years of international experience in the environmental and social responsibility industry, Ly is an expert in developing environmental impact assessments and implementing management systems.
Meet Ly
Hanh Huynh
Hanh has worked on numerous industrial projects as an Environment Health Safety and Social consultant in Viet Nam and has a comprehensive understanding of both Vietnamese regulations and international requirements.
Meet Hanh
Beckers achieves improved environmental compliance
To help support the growth of their Binh Duong coating manufacturing plant, Beckers asked Wiser to conduct Environmental and Health and Safety Due Diligence.
The ESMS we developed for Redsun
Wiser was enlisted to help Redsun develop and manage an environmental and social management system (ESMS). Helping them to safely construct rooftop solar panels.
British Council Waste Management Policy Dialogue in Vietnam
Wiser advised the British Council in Vietnam on how the UK plans and implements management systems and treatment models within the resource management sector.
Latest Vietnam Environmental News
As the Vietnamese Government has gradually expanded its Law on Environmental Protection, operators who wish to import waste into Vietnam should stay informed. Over...
We seek to recruit colleagues with the aptitude, attitude and work ethic to meet our high-quality standards. A background in environmental consultancy and a drive for improvement are also essential requirements to join our team. We are always interested to hear from individuals who believe they can help us improve the service we deliver to our clients. If you think you can help us, please send your CV in confidence to 
business@wisergroup.co.uk
Management systems and Sustainability
We specialise in developing and implementing practical and bespoke integrated management systems to improve business performance and meet requirements of international standards including quality (ISO9001), environmental (ISO14001), health and safety (ISO45001) and energy (ISO50001) standards. Find out more about our management systems services.
We support companies with the development and implementation of sustainability programs. Our expertise supports the delivery of integrated and sustainable solutions through lead best practice on resource efficiency (materials, water, energy, waste reduction), social impact, application of circular economy principles and understanding future local and international trends.
Compliance and auditing
Our team of IEMA registered consultants deliver comprehensive auditing of:
Legal and regulatory requirements

Wiser Environment Ho Chi Minh City office.
Process and procedural requirements
IFC Performance Standards
High FEM
General environmental, health and safety and energy best practice
ISO9001:2015 (Quality Management Systems)
ISO14001:2015 (Environmental Management Systems)
ISO45001:2017 (Health and Safety Management Systems)
ISO50001:2016 (Energy Management Systems
Waste and resource management
We have been providing independent advice to the waste industry for many years and have broad practical and strategic experience in the field of waste and resource management, providing strategy development and technical solutions.
With rising waste management costs, increasingly complex legislation and a realisation of the value of waste as a resource, our client base has widened to include many waste producers looking to improve their waste management practices. Find out more about our waste and resource management services.
Environmental impact assessment
We have been preparing environmental impact assessments (EIAs) for a range of industries and projects. We help our clients ensure that all environmental impacts of projects are comprehensively considered and mitigated against, as part of the planning process.
Environmental and Waste management training
We offer bespoke environmental training including awareness courses that improve understanding on issues relating to environmental and waste management helping to ensure the compliant and responsible operation of your organisation in Vietnam.  Find out more about our environmental training services.
CEEQUAL and BREEAM
CEEQUAL, the first sustainability rating scheme for infrastructure in the world, now operates alongside BREEAM, bringing together the world's leading sustainability assessment methods, rating and award schemes for buildings, master planning, and infrastructure.
Wiser Environment's CEEQUAL qualified assessors can lead project teams through the assessment and verification processes to pursue high economic, environmental and social performance by identifying and applying best practice. They will scope, collect the evidence, upload it onto the on-line assessment tool, ensure that the assessment is ready for verification and liaise with the Verifiers throughout.