At Wiser Environment our role in the community is important to us. As a Group, we employ a team of 50 across all of our locations. We value our highly dedicated and long-standing staff. We support and mentor our team, and build our combined knowledge so that each of us can enhance Wiser Environment's excellent reputation and support each others' personal development. Find out more about working for us.
Team challenges
Together as a team, we like to set ourselves regular charitable challenges. For example, we take part each year in the London to Cambridge bike ride in aid of Breakthrough Breast Cancer. Also, our directors took part in a Summer of Challenges to raise money for the Fire Fighters Charity.
The Summer of Challenges saw the Directors take on a series of gruelling races and trials. Kicking off with Russell and Dominic Hirst completing the 23 miles Three Peaks Fell Race in Yorkshire in April. The challenge took in 400km of road cycling and 25,000 feet of ascent in the Pyrenees in June where Russell and Dominic were joined by fellow director, Charles Thomas, and friend Alistair Whitehead.
It also included the Yorkshireman half marathon and several sportive bike rides of over 100 miles before being completed in October in the Transylvanian Carpathian Mountains. Russell and Dominic Hirst were joined there by their brother Adam on a three-day mountain bike tour covering a technical and physically demanding 110 km of off-road mountain trails and 3,500m of climbing in the National Park populated by brown bears, wolves and mountain goats.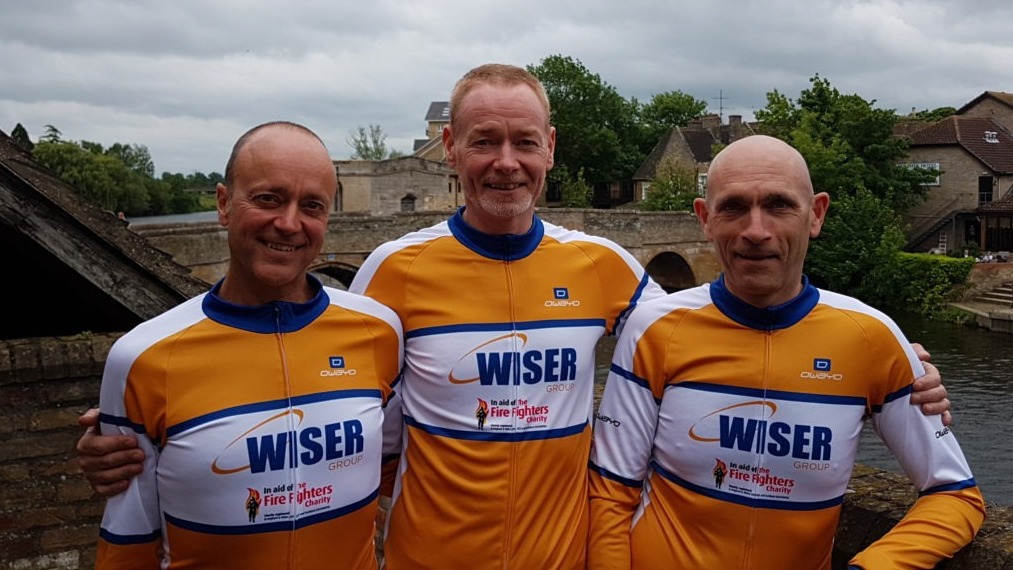 Helping the Cambridge Cyrenians
As a member of our community we commit to providing at least 1% of our profits to local charities. The Cambridge Cyrenians provide high quality support services for homeless men and women in Cambridge. They empower homeless or vulnerable to homelessness people by providing real and meaningful accommodation and counselling. As an example of the Cambridge Cyrenians' great work, one of their residents puts it best:
"I moved in to Cyrenians on a Friday, and was told that I could access counselling at 11:30 the following Monday. This made a huge difference for me as I had been waiting for over a year to access counselling again and was getting down about it. I felt like Cyrenians cared about my mental wellbeing and didn't just see me as a homeless person who could be fixed by being given a bed.
I remember my first session with Susan, I was anxious and worried that it would be the same as my previous experiences with counselling, where they spoke to me very patronisingly and would push me to talk when I didn't want to, to the point that I felt uncomfortable. Almost immediately, I felt a connection with Susan because she was patient and understanding, she explained what she did and how it could help me. She never pushed me to talk when I wasn't comfortable, but she encouraged me to explore and understand the trauma that I had experienced, in my own time and with guidance.
Having counselling every Monday with Susan gave me structure to my week, and gave me something to look forward to. If anything happened during the week that would upset me, I knew that I only had to wait a few days to be able to speak to Susan. From my sessions with Susan, I began to understand myself and what my triggers were, learn that trauma and abuse hadn't just started with my ex, and that it was okay to be as I was and not have to feel pressure to conform.
I believe the counselling that I had through Cyrenians gave me the best opportunity at starting fresh and learning to live with myself. I don't like to think where I would be now if I hadn't received that help and that opportunity from Cyrenians. It was never a chore, and the difference in myself between then and now is astounding. At times it was difficult because of the nature of the things I spoke about, but it was worth working through because I never saw myself back then being able to be happy like how I am now. I still speak to Susan every week since leaving Cyrenians."
Support for the Raptor Foundation
We sponsor the Raptor Foundation in Woodhurst, Cambridgeshire. Plus, our Managing Director – Russell Hirst – is a Trustee. Dedicated to their cause – the Raptor Foundation provides a rescue service, 24-hour care, rehabilitation facilities and more for raptors. Their purpose is to increase the raptor population in the UK, provide education platforms and care for raptors who are unable to return to the wild.